HOUSES ON THE FJORDS
Europan Norway Implementation phase:  Preliminary project
Year: 2019
Images: ONIRISM, Milano
Site: Bossekop, Alta – Norway
Client: Municipality of Alta and private investitor
Collaborators: E. Zetti, M. Soupe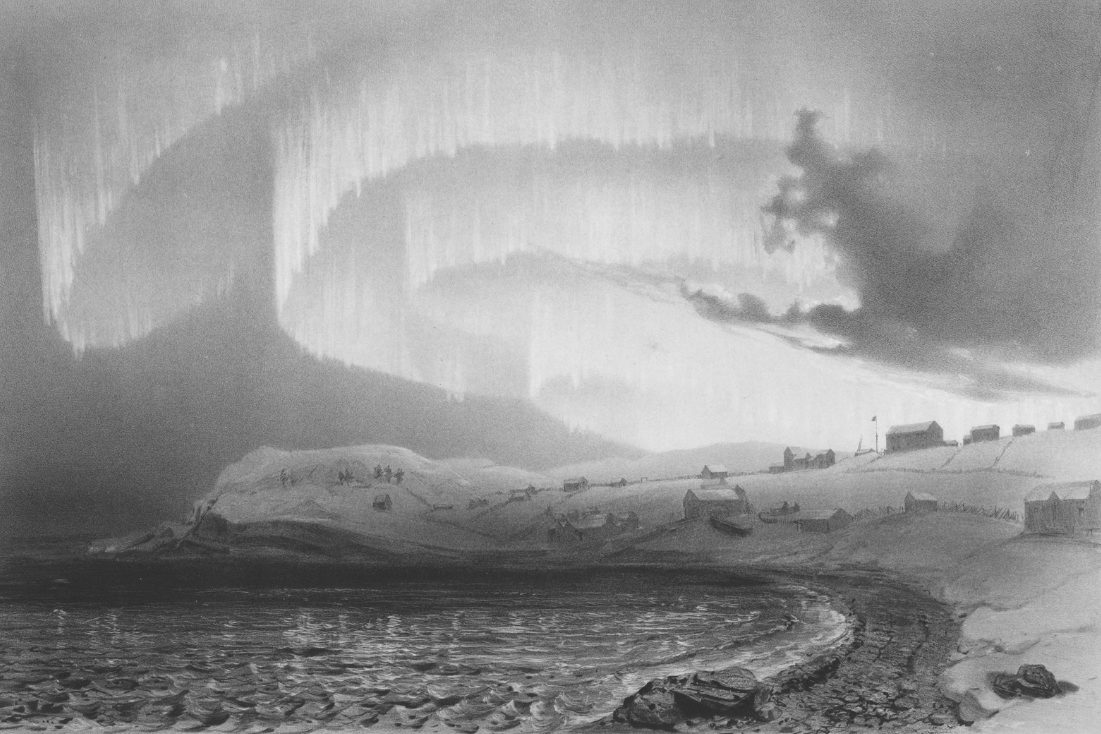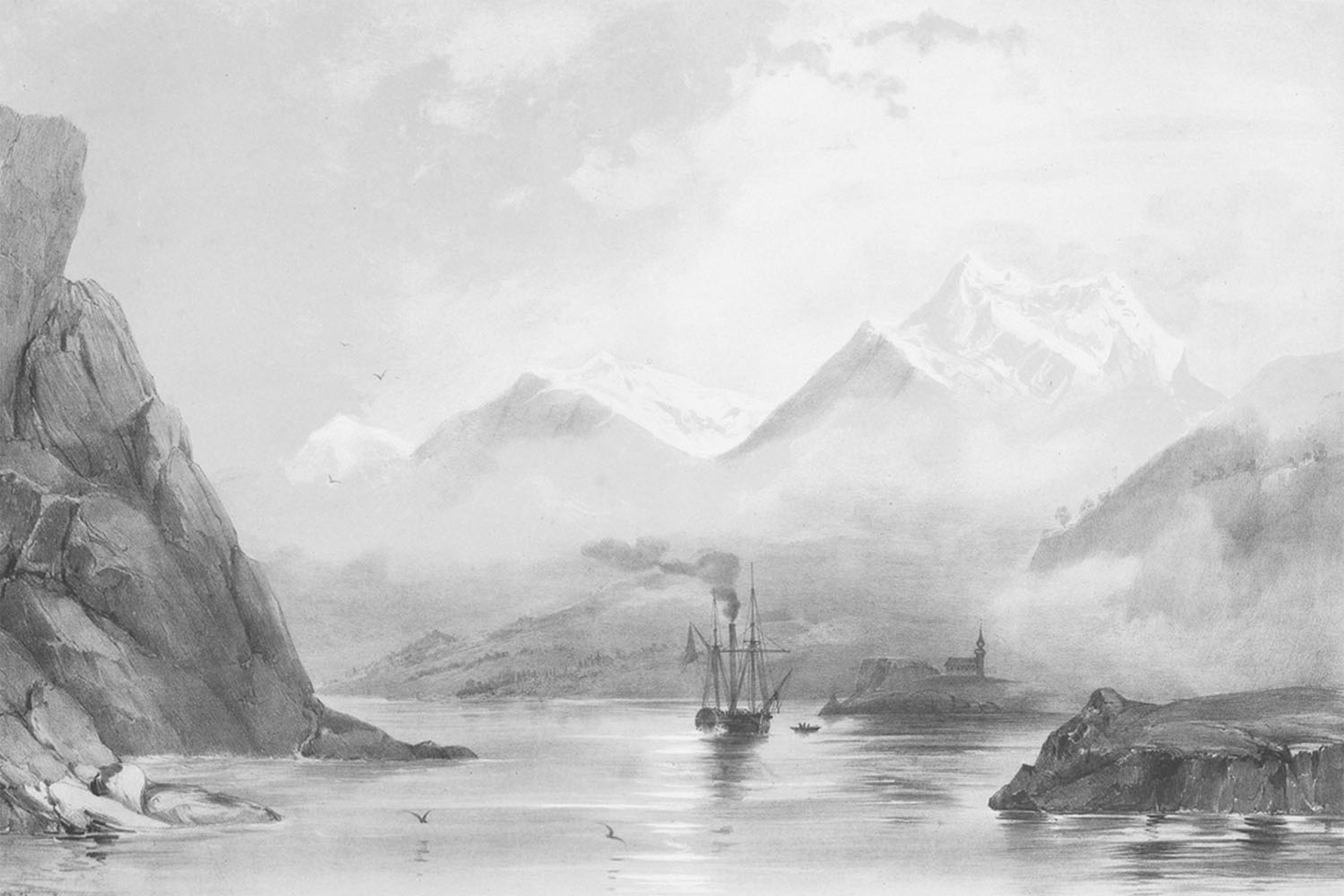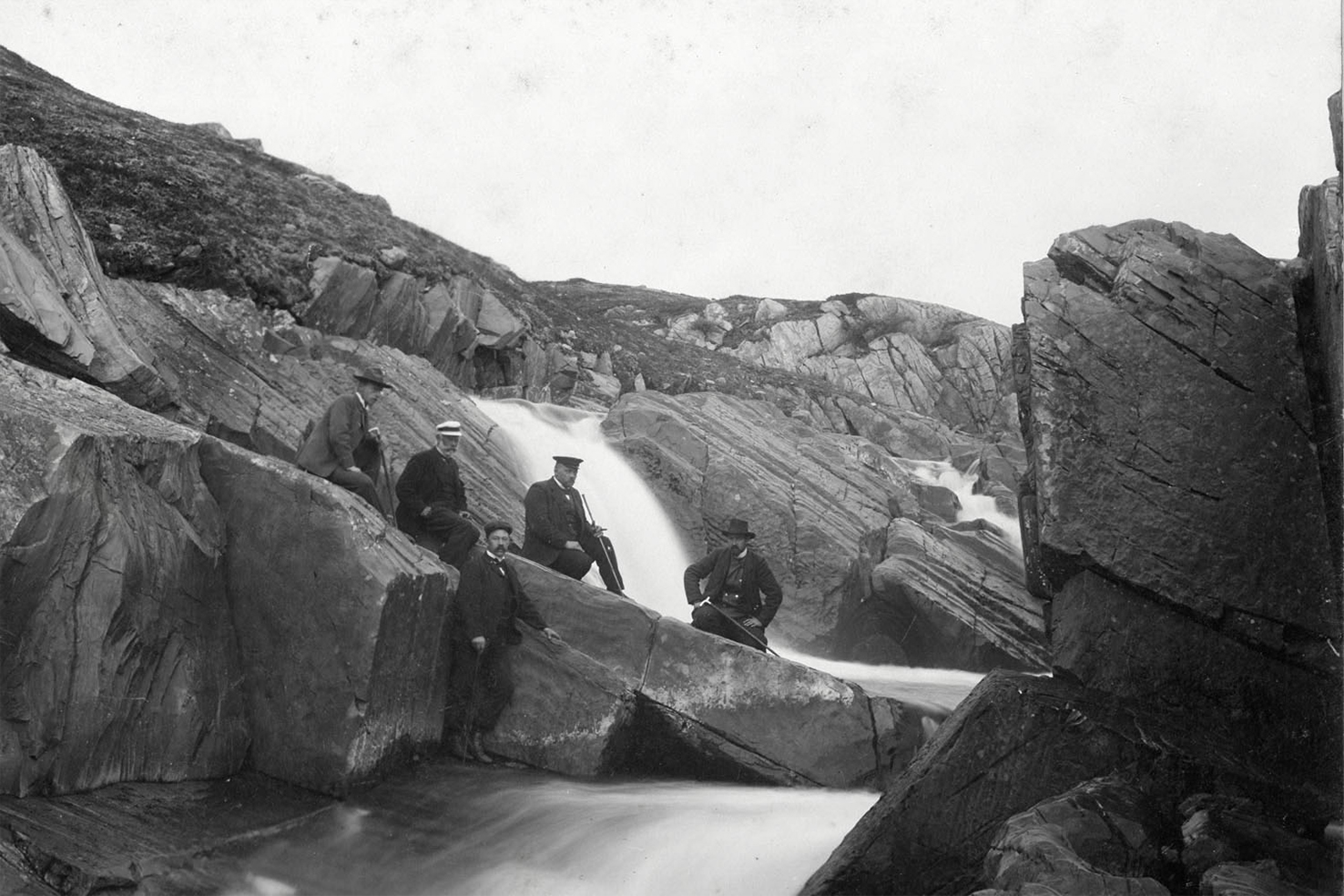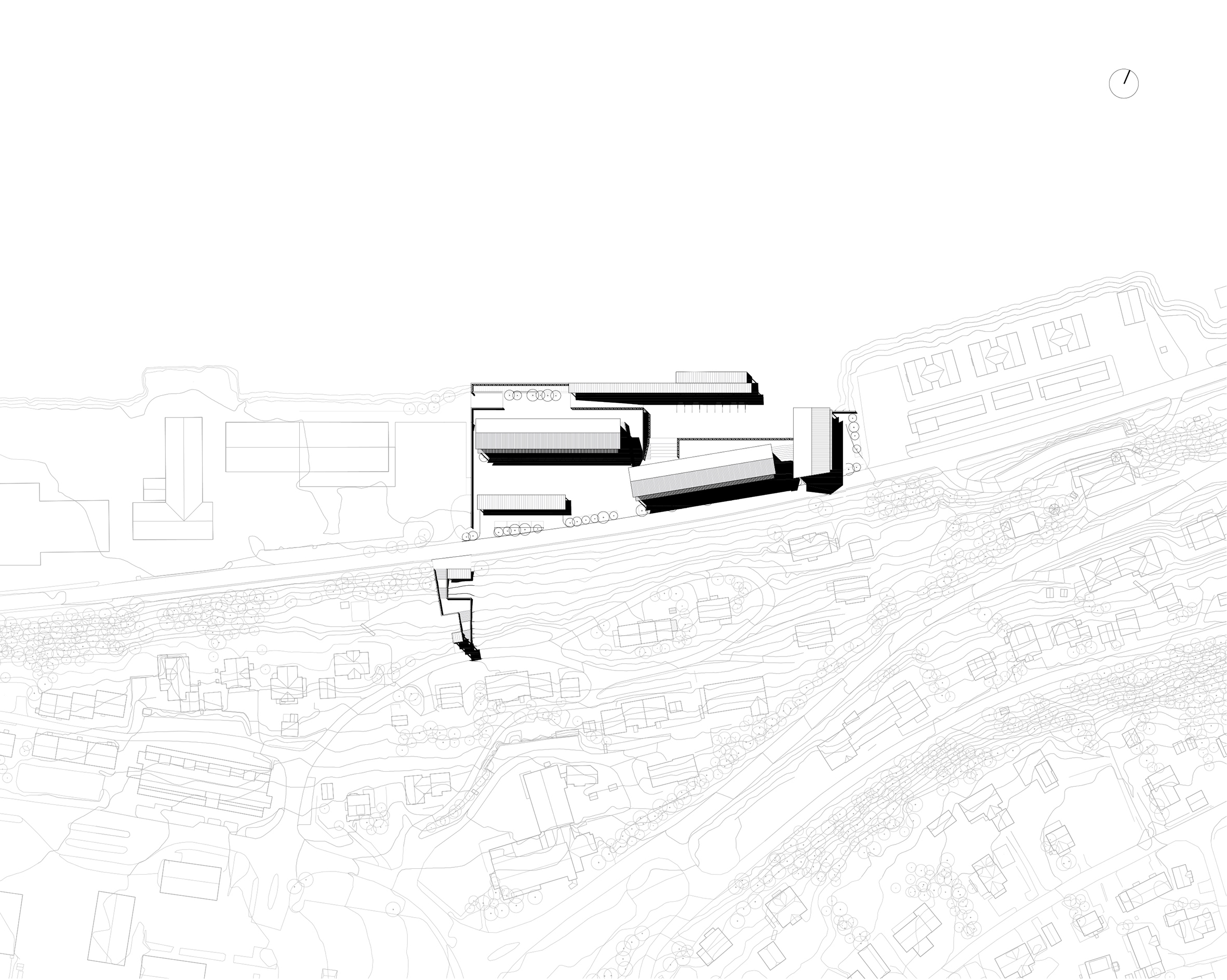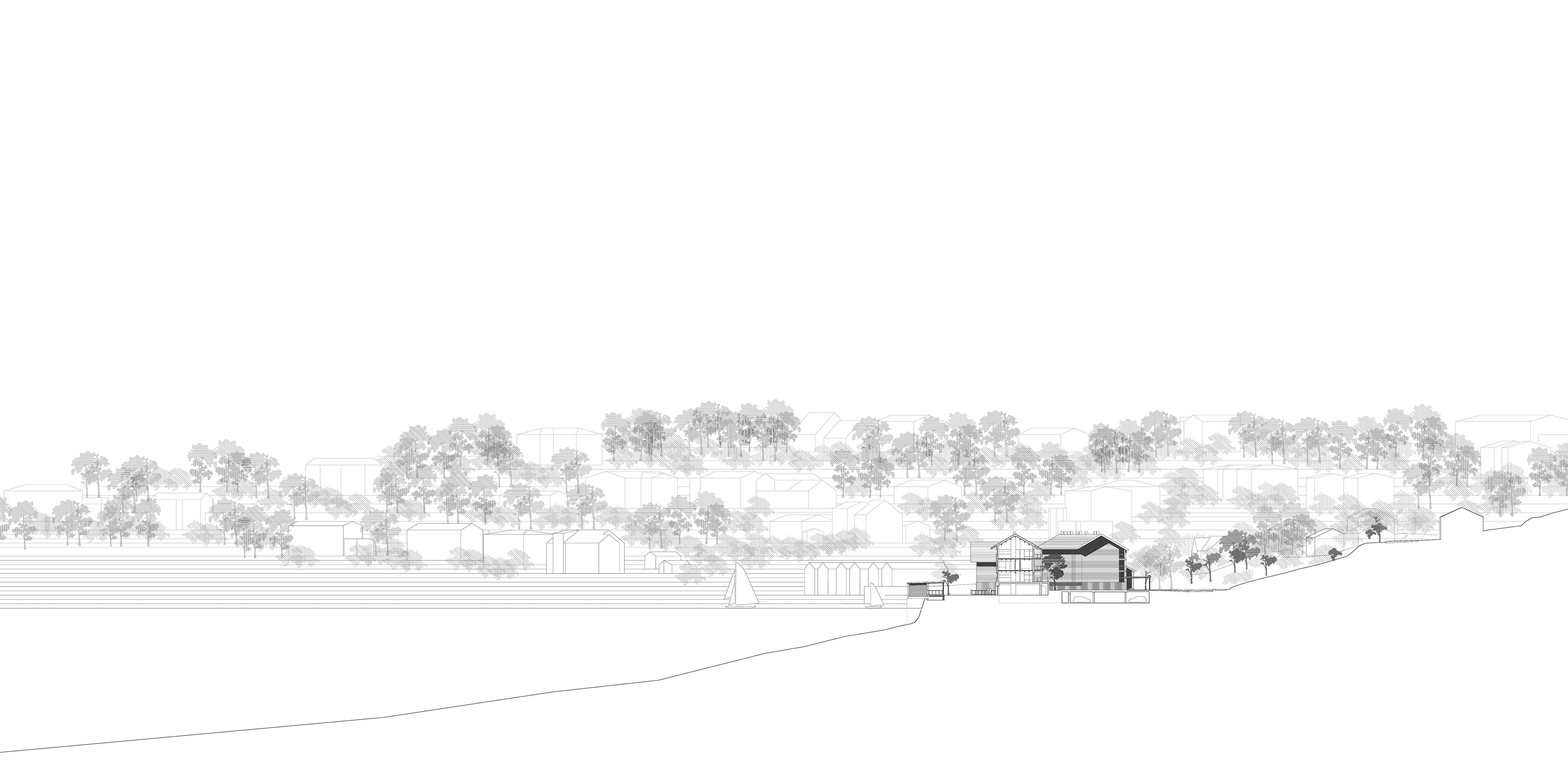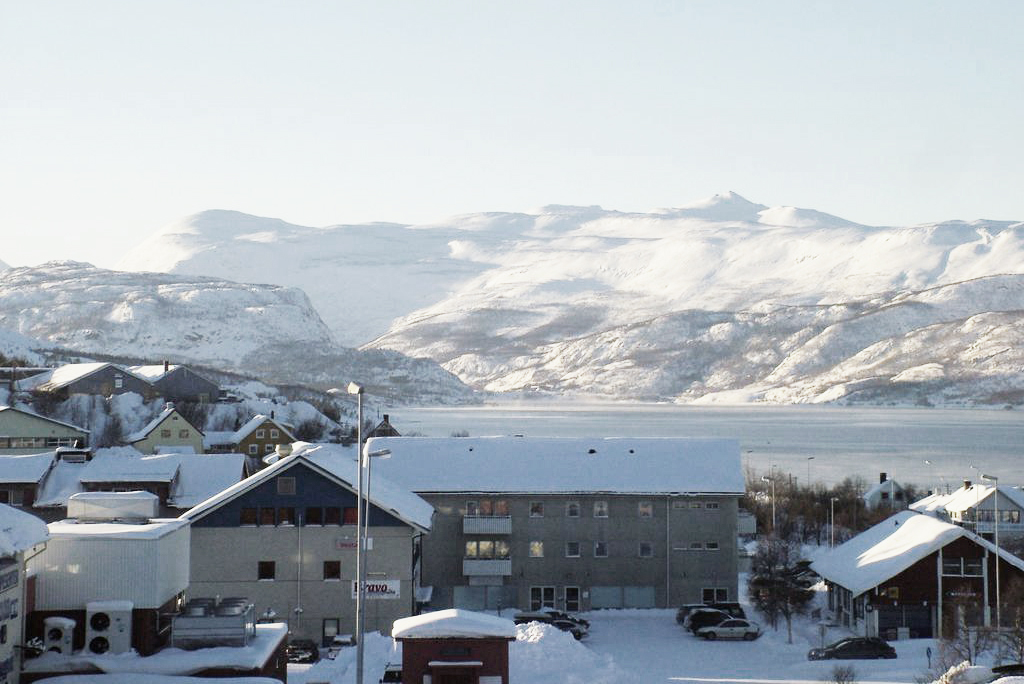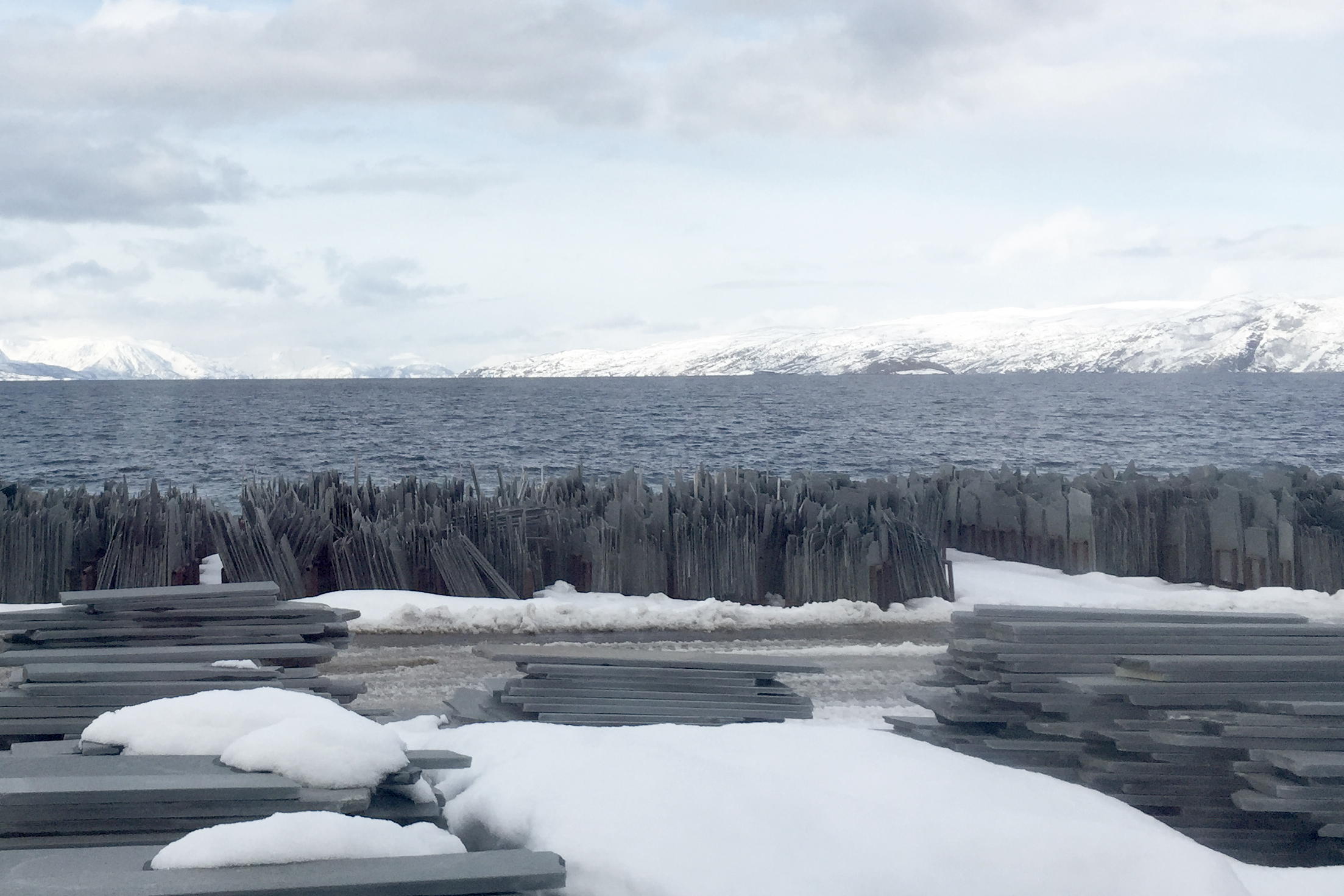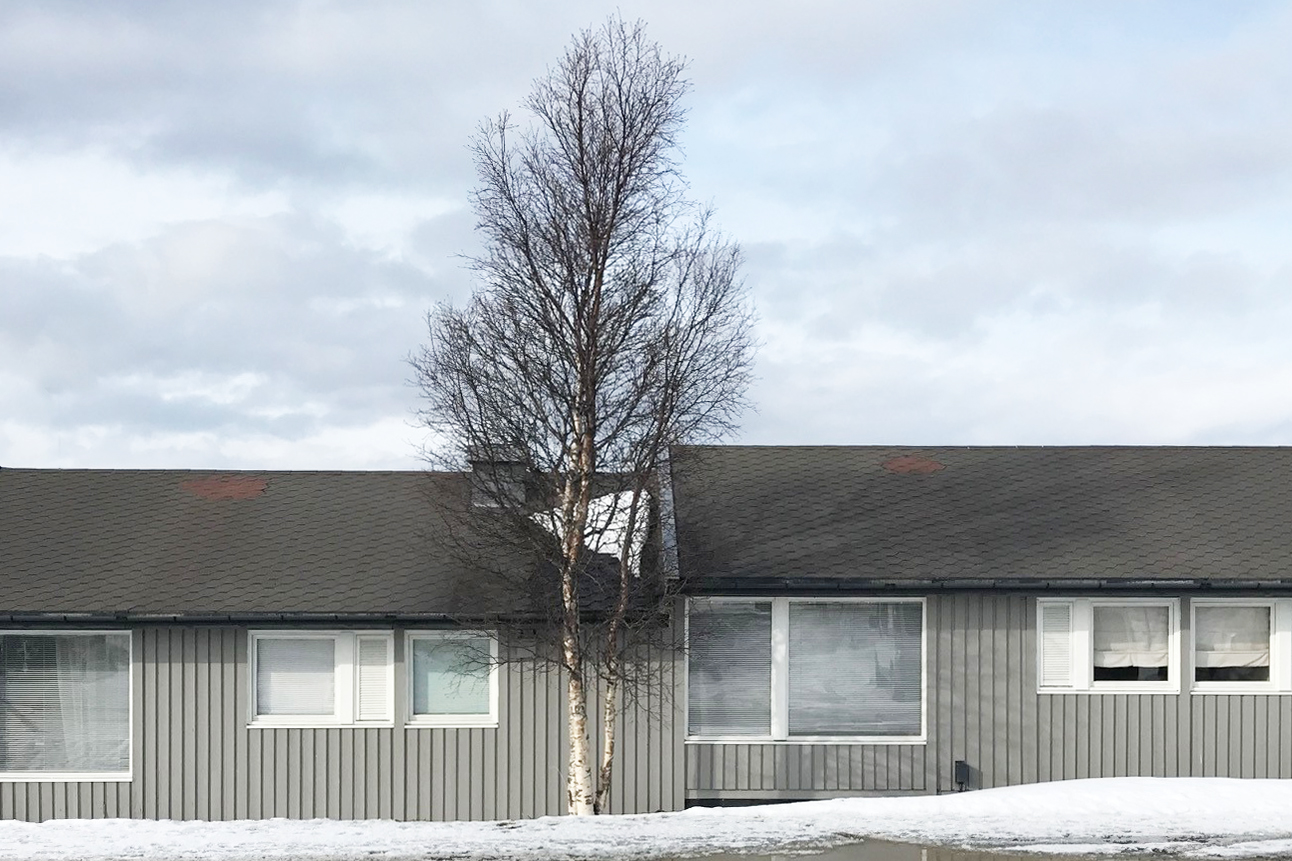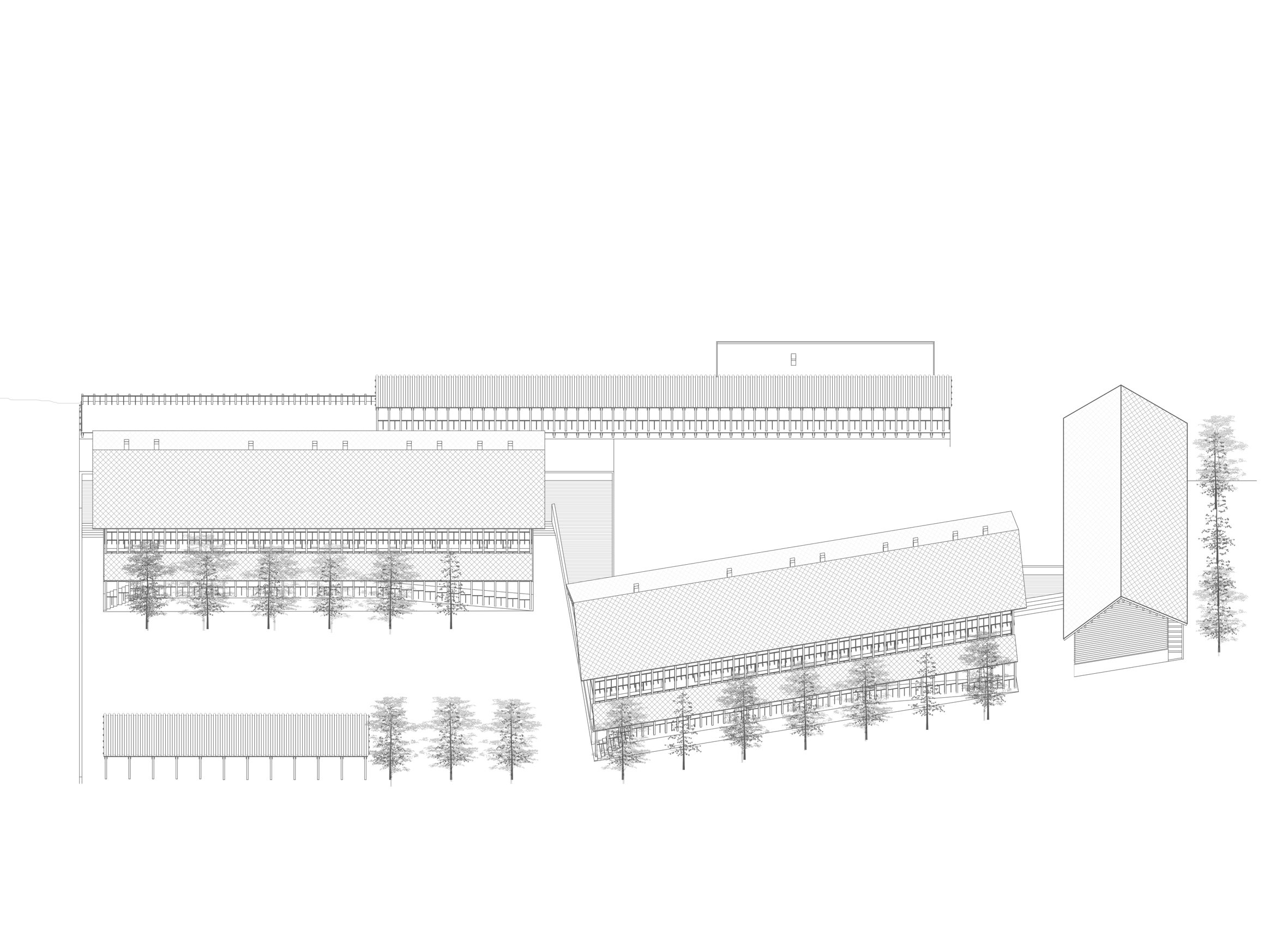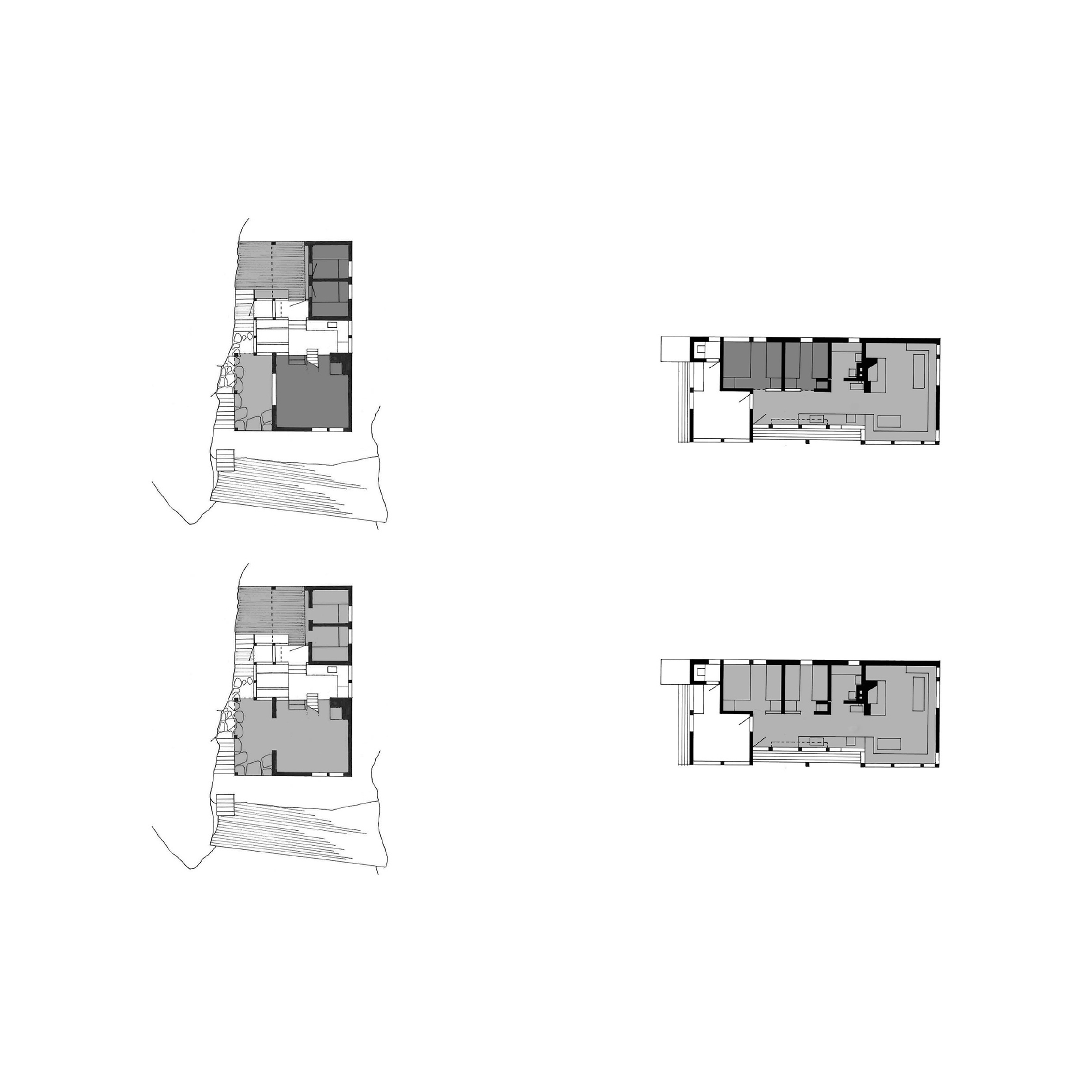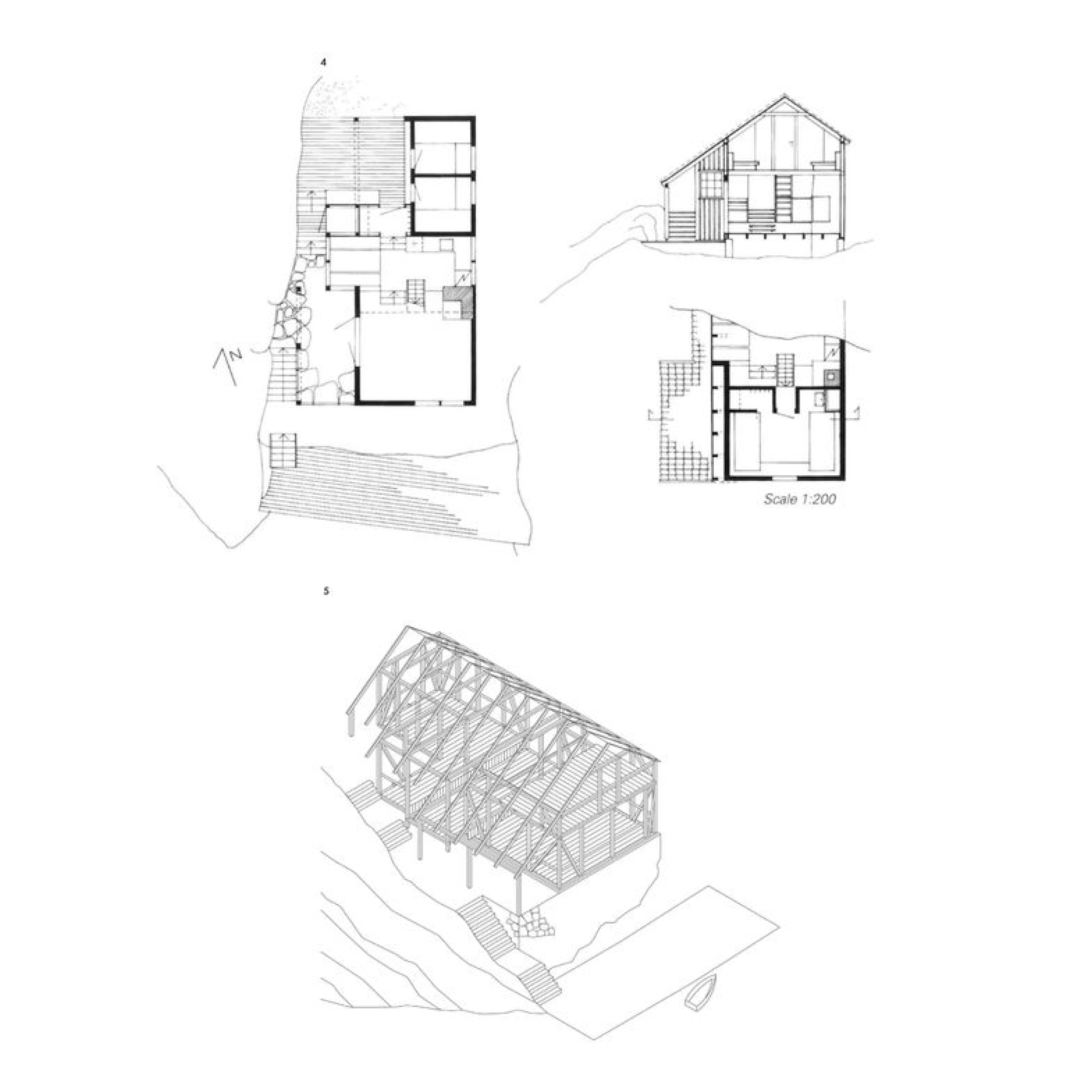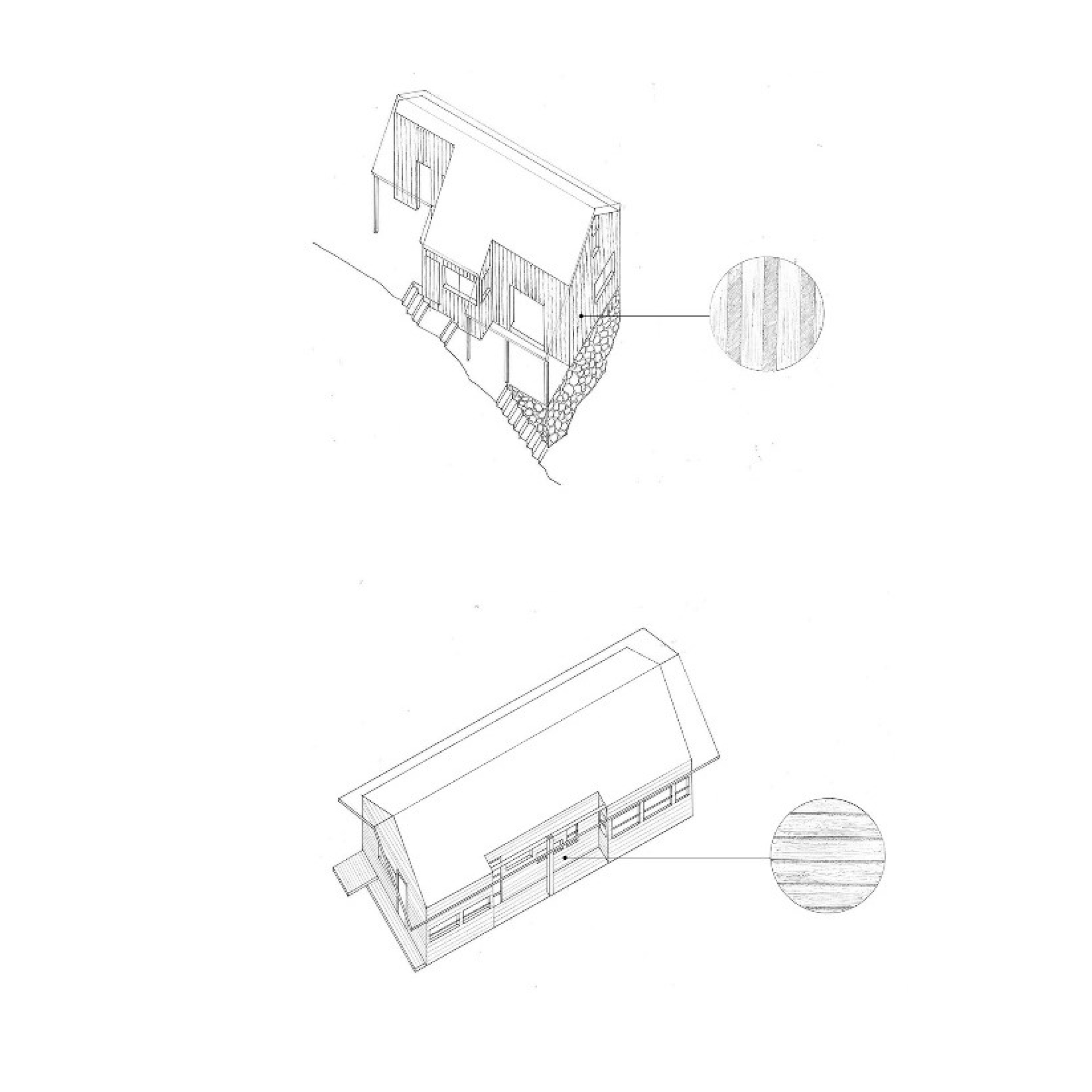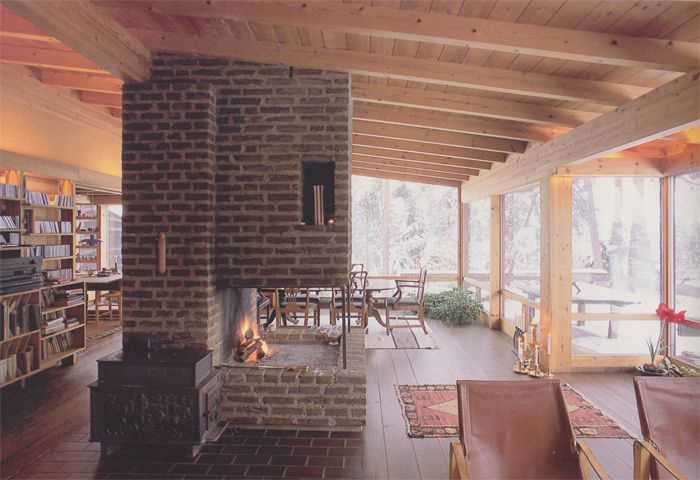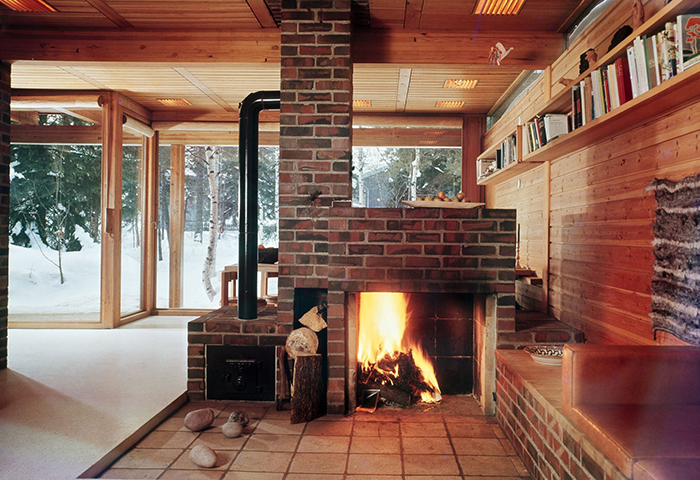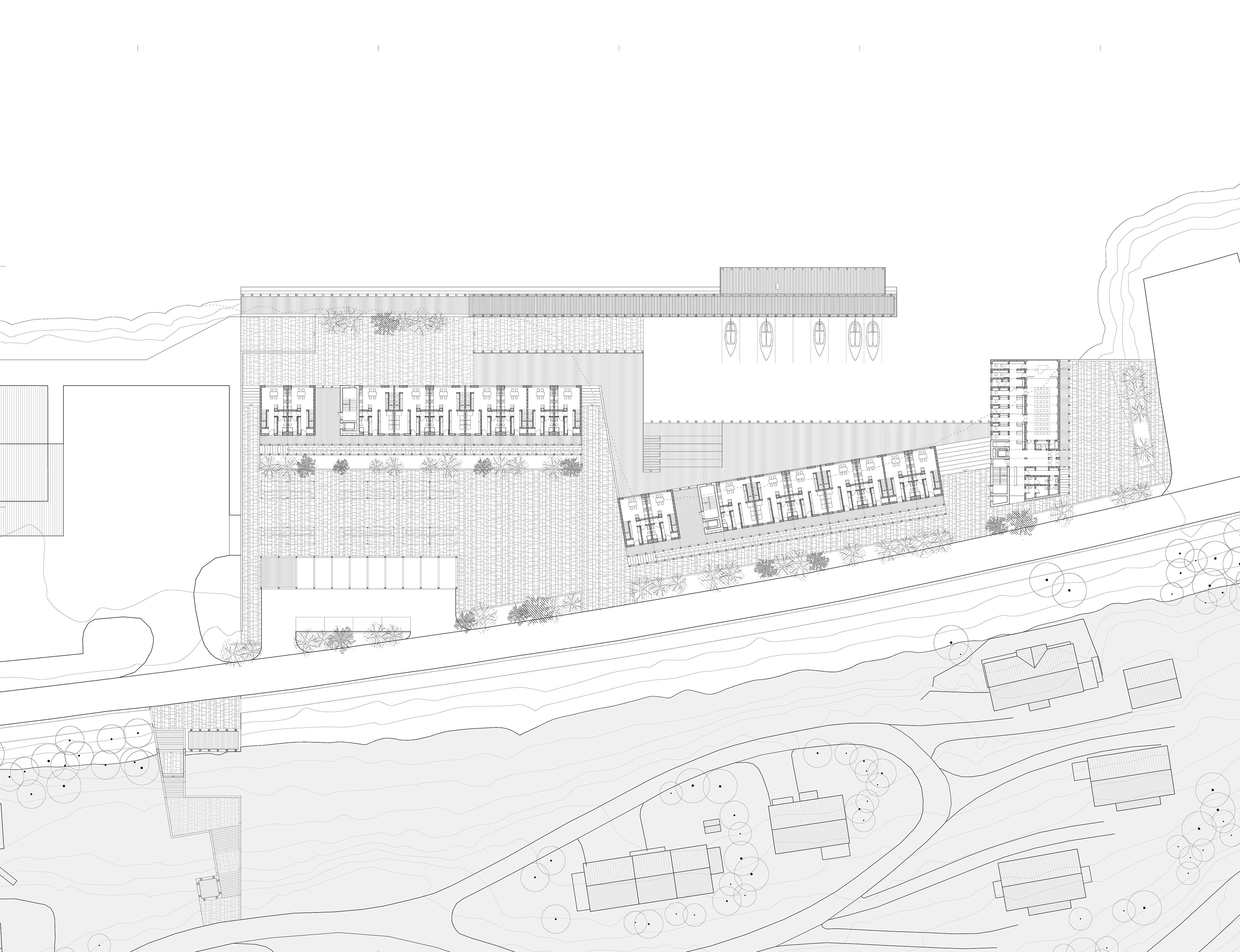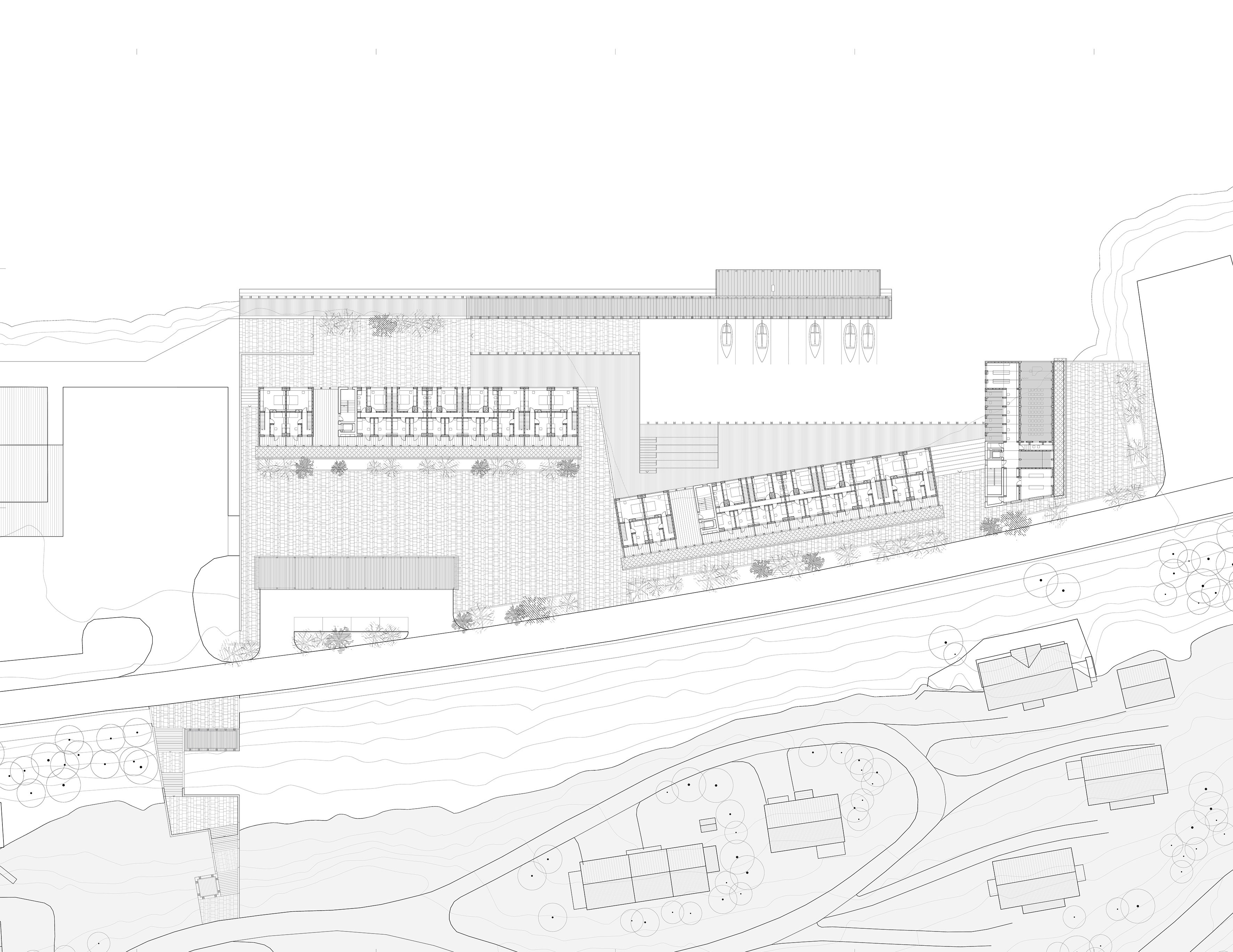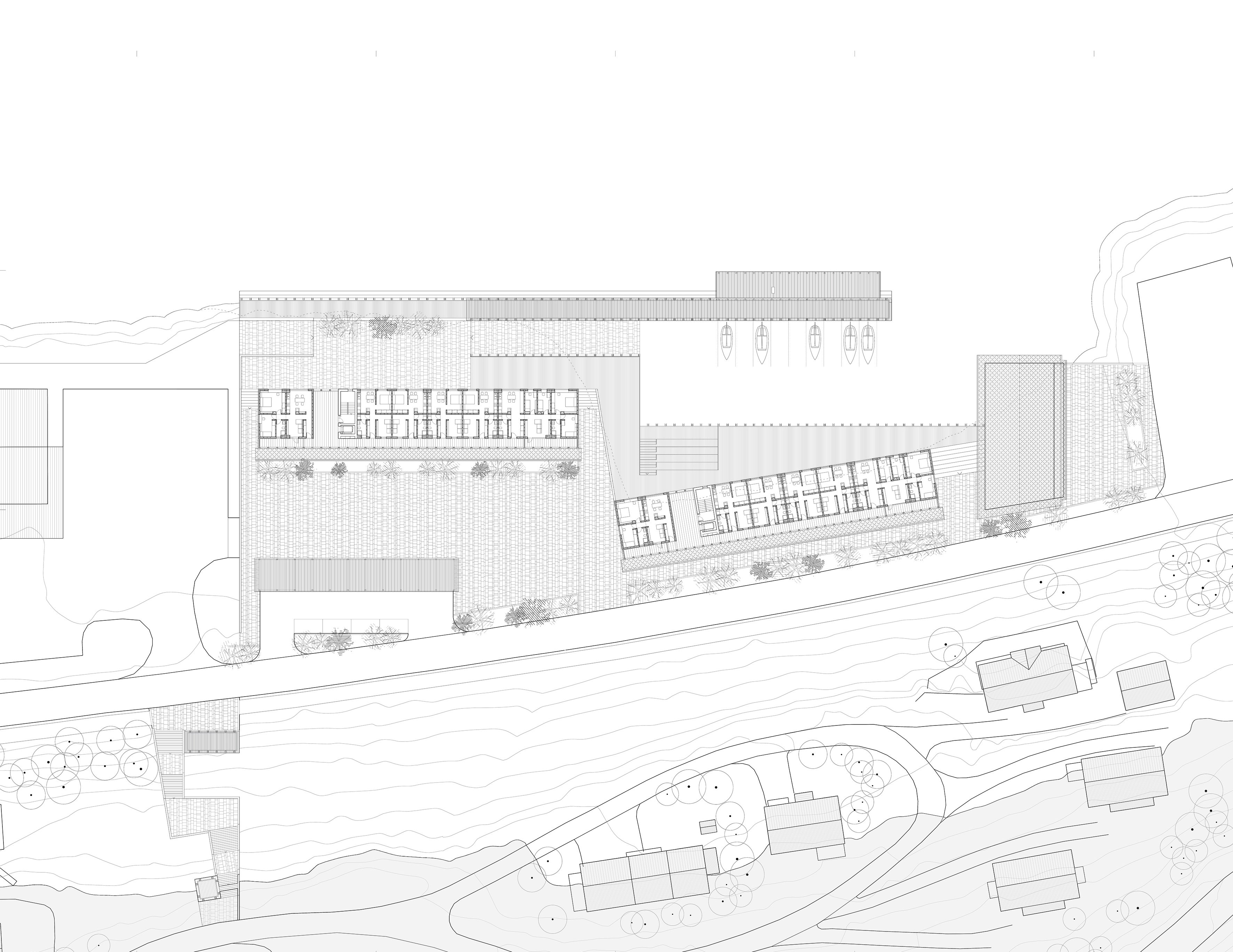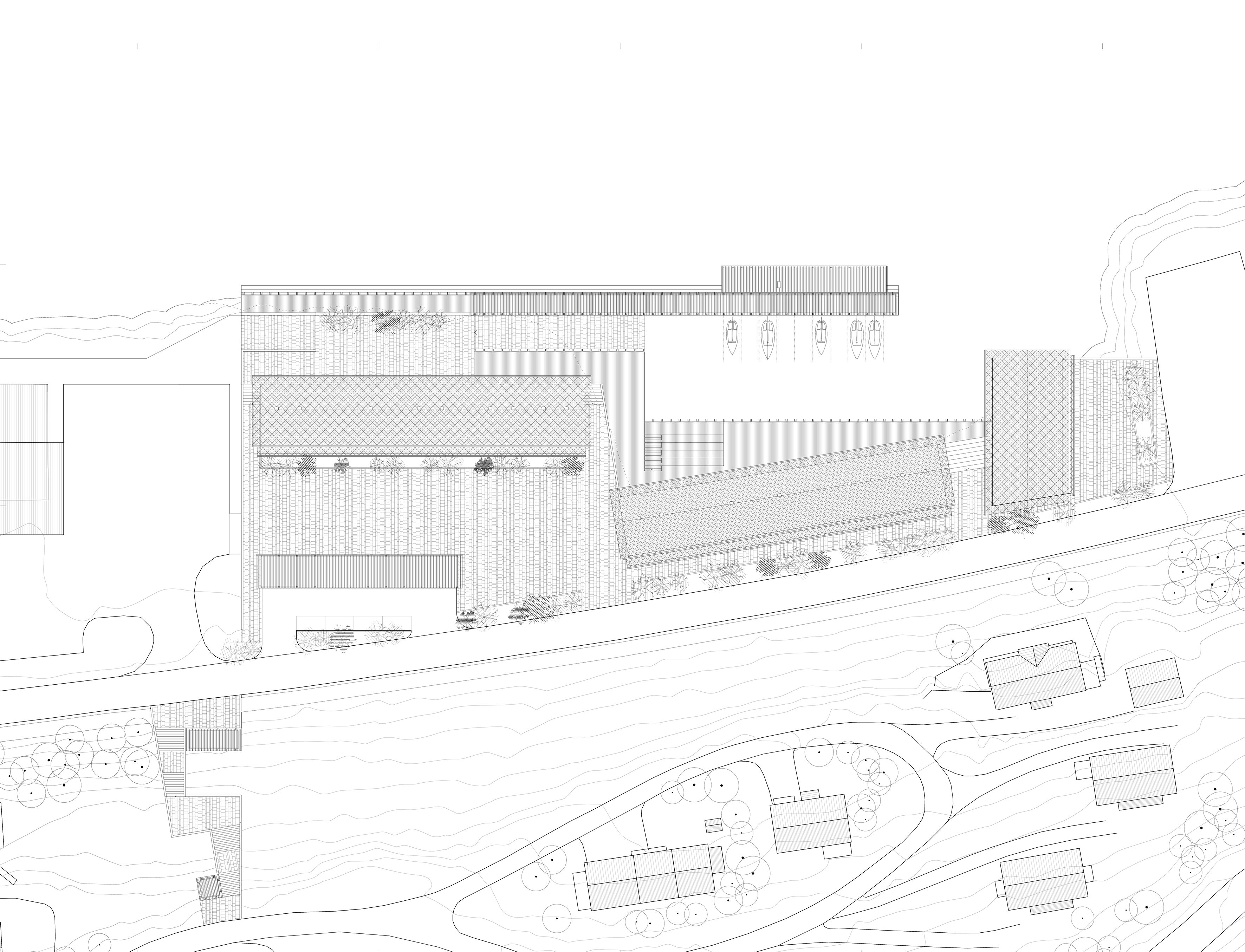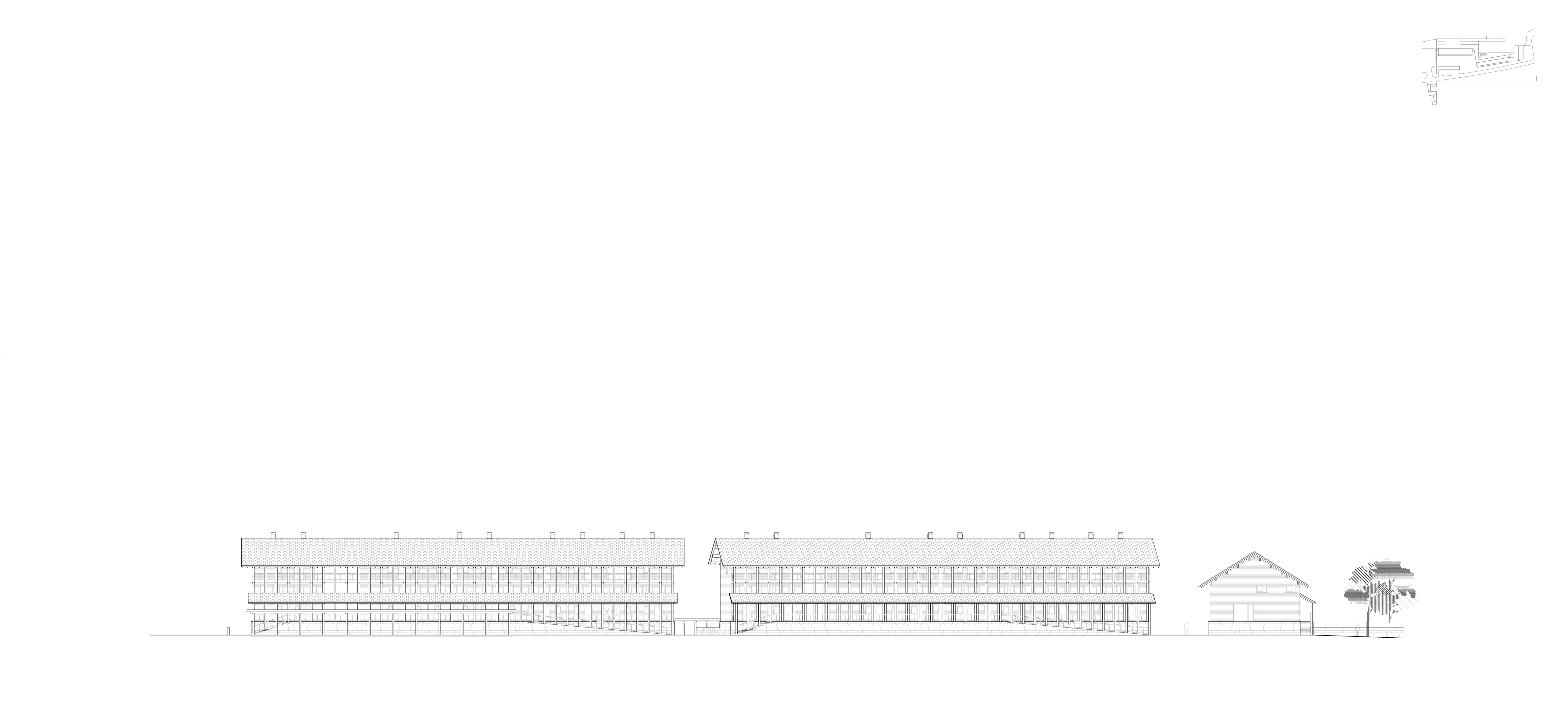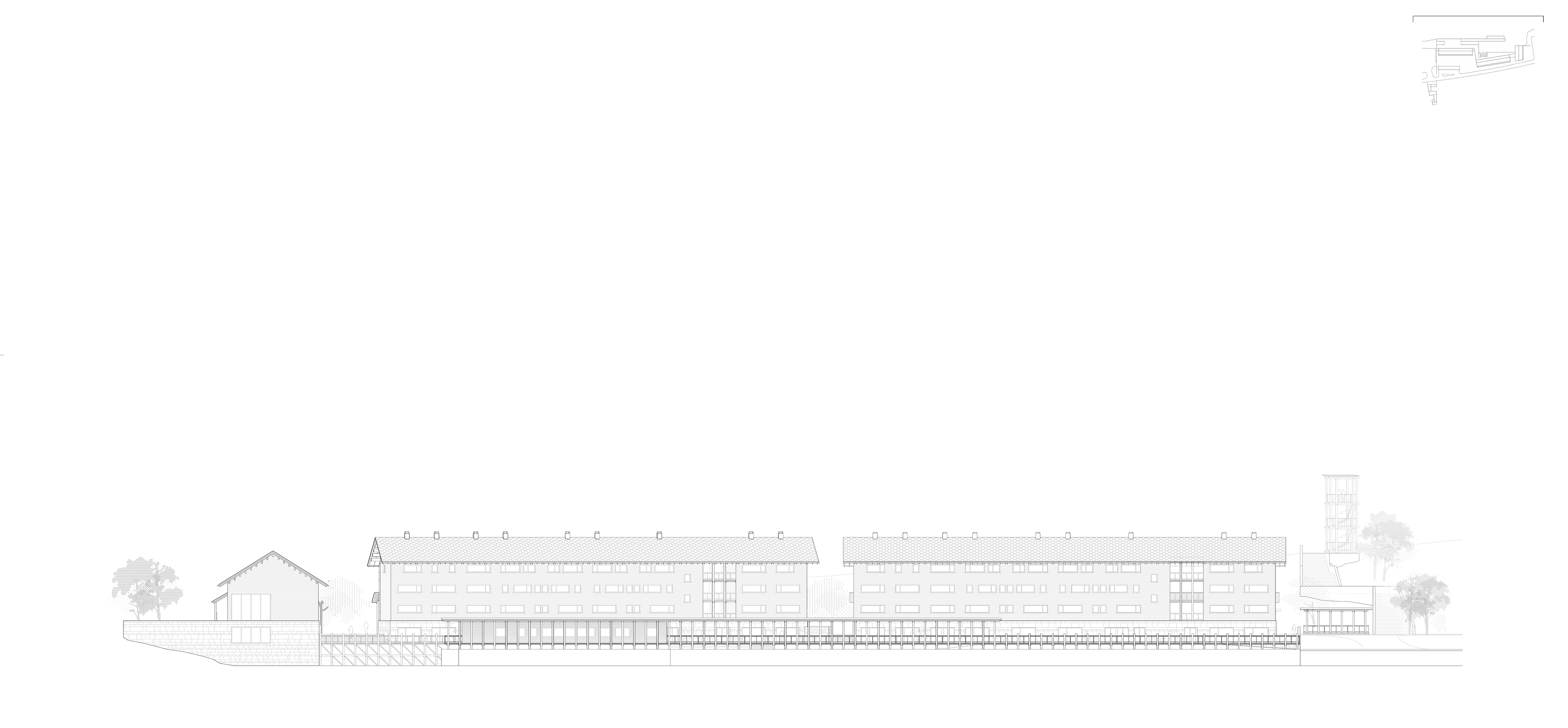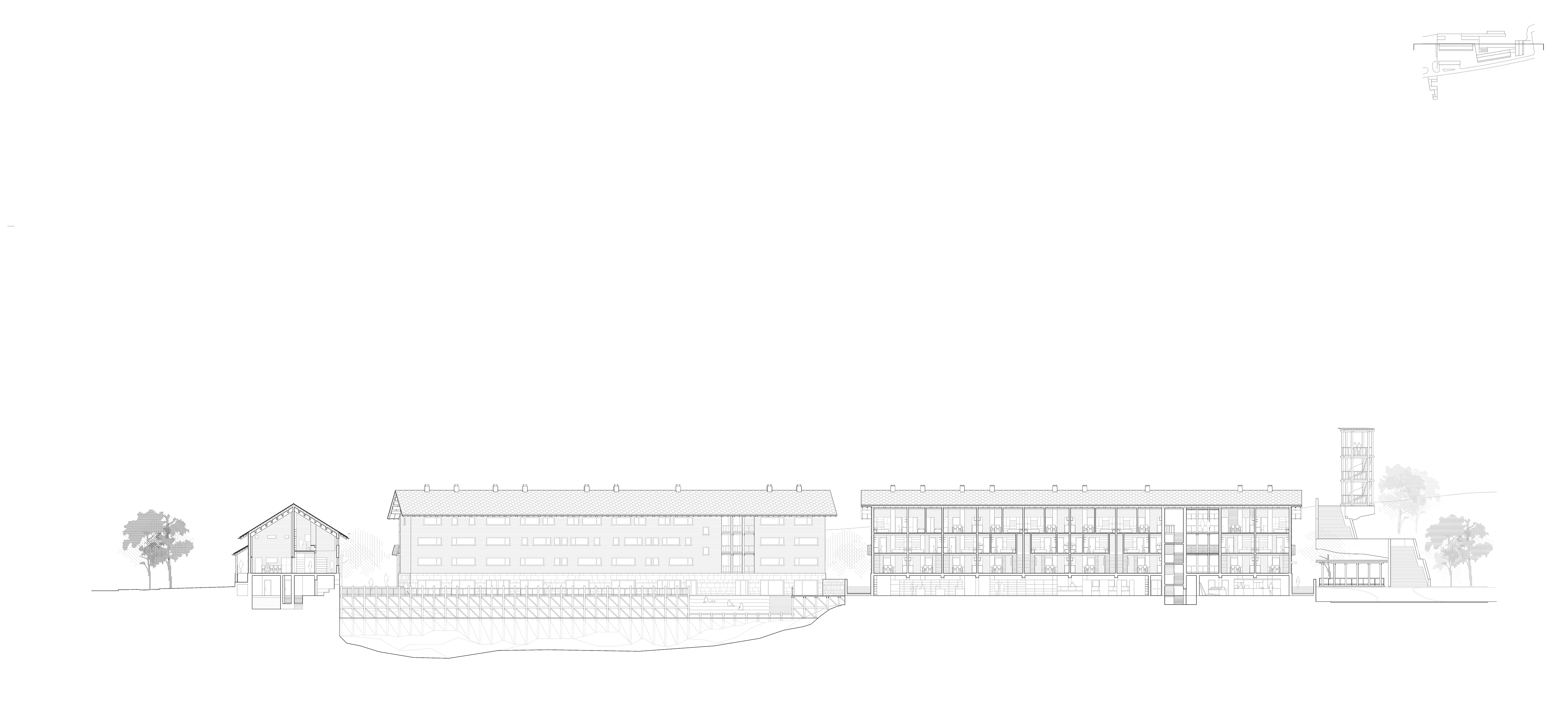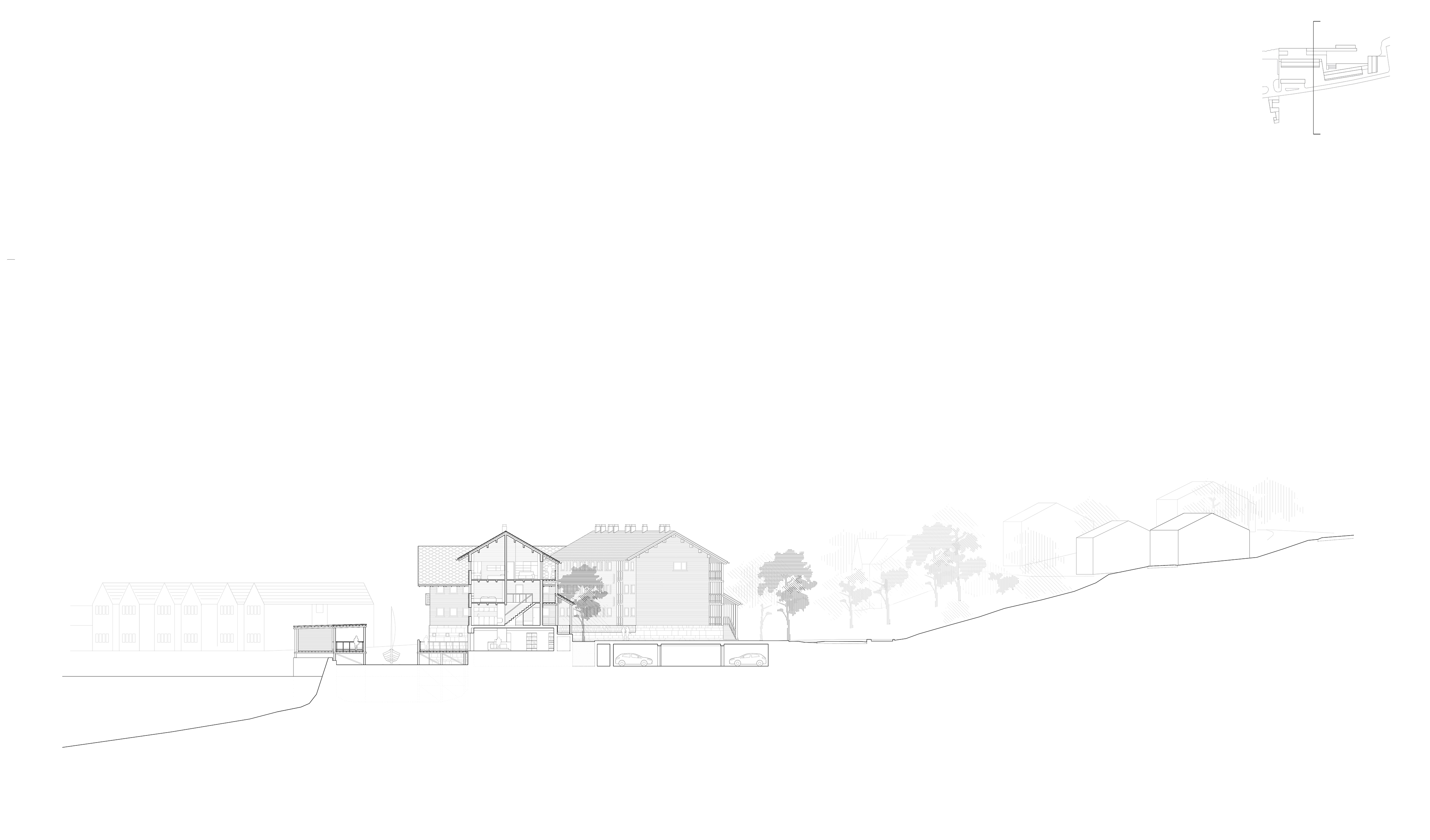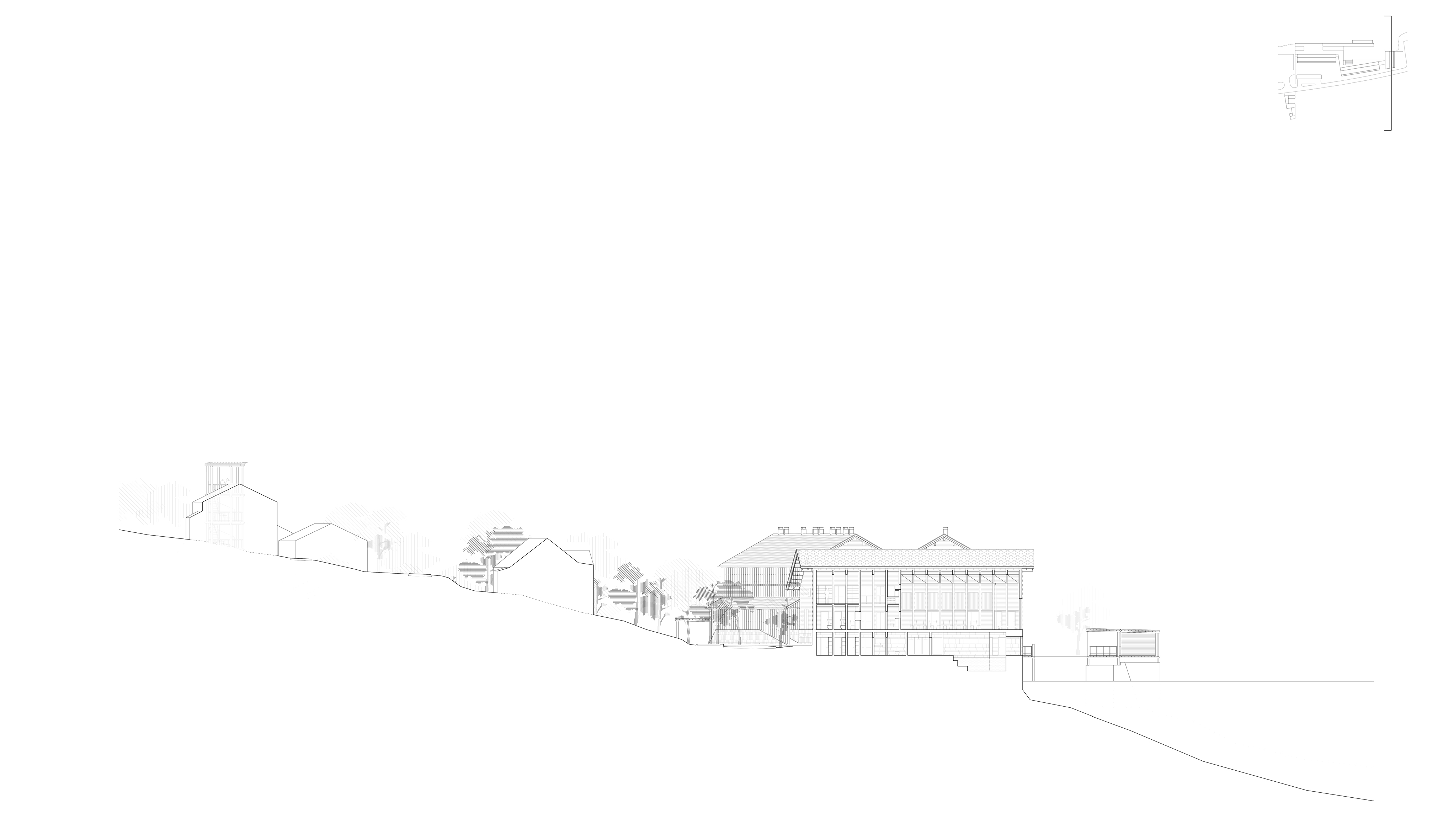 LOCATION AND URBAN DATA
The project "Houses on the Fjords" is located south West of the town of Alta, in Norway. Alta is a small town with a population of about 20.000 people. It is characterized by an urban fabric made mainly of small wooden houses with gabled roofs, having a maximum height of two or three levels and small streets that adapt to the morphology of the territory. The planning underlying the urban fabric shows the intention of preserving the territory from the phenomenon of densification and to enhance, on the other hand, the relationship with the surrounding landscape and the need of intimacy and privacy of its inhabitants. Today the economy of the town relies on small and medium industry, on fishing and some activities related to the production of slate and wood, but also on tourism, which is made easier by the presence of an airport connection.
The plot where the housing complex in question will be built is located near Bossekop, on the main road named Straindvein, which runs along Skiferkaia port for a while. The surface of the plot is about 4240 sqm with about 3500 sqm of building possibilities. A 4m height difference describes the section of the lot from the road to the sea level, while on the other side of Straindvein the orographic situation shows a town built on a high promontory open to the fjords and in a close visual relationship with the landscape. Near the area there are rare examples of medium-large industrial sheds, related to the activities above mentioned. The area under study was mainly used as an open-air deposit of slate labs.
TRADITIONAL BUILDING MATERIALS
If we start considering the oldest anonymous Norwegian buildings, moving, then, to an observation of the vernacular houses in the Viking villages,  up to the emblematic Stavkirker, paradigmatic models of a building technique that has no equal in the world, not to mention the extraordinary engineering of the Drakkar and the Knarr, we can certainly state that wood is the most widely used building material in Norway's architectural history.
The deep constructive wisdom of Nordic carpenters, their structural clarity, their knowledge of the material and respect for its properties have created a real art of building, consolidated over time up to recognize itself as an identity.
The continuous observation of traditional Norwegian architectures and in this specific case leads us to consider a second building material, especially used in the base parts or in the coverings of the roof layers: slate. Alta is, indeed, one of the main slate extraction sites in the whole Norway along with Oppdal, in the central area.
The building tradition of Norwegian houses shows in several project drawings and photos the walking surface isolated from the ground by wooden substructures or by stone bases upon which the structure is placed.
The stone base serves to better isolate the wood from the rising of water by capillarity which would otherwise damage the structure and, therefore, the static balance of the entire building.
CRITICAL REGIONALISM AND THE EXAMPLES OF SVERRE FEHN AND WENCHE SELMER
"The Tactile and the Tectonic jointly have the capacity to transcend the mere apparent of the Technical, in much the same way as the Place-Form has the potential to withstand the relentless onslaught of global modernization".
K. Frampton, Towards a Critical regionalism, in Hal Foster, ed., The Anti-Aesthetic: Essays on Post-Modern Culture, London 1983
Critical Regionalism is the set of formative rules of an approach that the historian Kenneth Frampton brought to the attention of contemporary debate in 1984 thus providing an alternative to the widespread internationalism of our age. Its aim is clearly against adopting efficiency parameters in assessing architectural spaces and materials and in favour of the development of "a strong culture, full of identity, yet open to contacts with the universal technique".
The implementation strategy of this approach is not attributable to a nostalgic-like feeling. It's fundamentally based on the will to achieve a new balance between the product of universal civilization and the elements that can be derived from the characteristics of a particular physical place, drawing from the latter peculiar qualities, such as, for example, the tectonics used in traditional buildings, the topographic conformation, the characteristics of the openings (flush with the wall, set back, protruding, fitted with sunblinds or not, with a slot) and the perceptual  relationship with the materilas used.
Another fundamental aspect of regionalist poetics is, indeed, the use of materials capable of activating most of our sensory perceptions, not only those related to the aestheticizing image of contemporary "Ephemeral Architecture". To this end the qualities of light and darkness will be considered, but above all the qualities perceived only by experiencing the space from within, that is, by the users:
"The heat, the cold, the flavour of the materials, the sense of humidity, the almost palpable presence of wood, where the body feels it belongs, the speed of our pace and the relative inertia of the body while crossing a plan, the echo and resonance of our steps".
M. Heiddeger. Quote from Frampton: Costruire, Abitare, Pensare. 1954
Tactile and tectonic are, therefore, the two lost qualities that Regionalist architecture intends to recover in order to activate a process of resistance to the technological imperative that mass culture has excessively introduced into contemporary culture. This process is aimed at stopping the loss of cultural identities and, on the other hand, at fostering  evolution and progress, connecting them with the reach of traditions and the history of places.
Along with the extraordinary work of the architect Sverre Fehn, there's another, no less important, work that should be considered. We are talking about the houses of the architect Wenche Elisabeth Selmer, who graduated from the National Crafts and Art Industry School of Oslo in 1945 and from the National Architecture Course in 1946. The analysis and studies carried out on Selmer's different typologies of houses were of fundamental importance for the development of the project as to the use of materials, tectonic parts and typological schemes.
The plans of the Wigert Summerhouse in Brekkestø, for example, as well as those of Wohnaus Wenche and Jens Selmer's one in Oslo or the Wohnhaus and Fotoatelier for Jim and Trine Bengtson in 1974 and the Hütte for Jan Herman and Birte Reimers in Sølbøseter, all share some repetitive elements which can be therefore considered, according to an analogic-comparative reading, typological invariants.
One of these is certainly the fireplace, the heart of domestic space, usually made of bricks and placed within the living/dining area, just after a hallway. The kitchen is always open and communicates with the living room, while there is a clear separation between this area of ​​the house and the sleeping area. The formal archetype takes up the type having a two-pitched roof made of wood with slatted covering boards vertically or horizontally arranged. The volume of the houses almost always consists of one, maximum two levels, with small-medium openings to preserve an internal condition that seeks a dialogue with the surrounding landscape through glimpses of the outside. Many of the examples analyzed use the basic solution with a stone base, testifying through their realization the effective efficiency of the isolation system from water infiltration by capillarity.
LOCALIZZAZIONE E DATI URBANI
Il progetto "Case sui Fiordi" è situato a Sud-Est della città di Alta, in Norvegia. Alta è una piccola città con una popolazione di circa 20.000 abitanti.

È caratterizzata da un tessuto urbano costituito principalmente da piccole case in legno con tetti a due falde con altezza massima di due o tre piani e piccole strade adattate alla morfologia del territorio.

 

L'attuale pianificazione urbana mostra l'intenzione di preservare il territorio dal fenomeno della densificazione e di valorizzare, invece, il rapporto con il paesaggio circostante e la necessità di intimità e privacy degli abitanti.

 

Oggi l'economia della città si basa sulla piccola e media industria, sulla pesca e su alcune attività legate alla produzione di ardesia e legno, ma anche sul turismo, reso più accessibile grazie alla presenza di un collegamento aeroportuale.
L'area di progetto si trova in località Bossekop, sulla strada principale denominata Straindvein, lungo il porto Skiferkaia. La superficie del terreno è di circa 4240 mq con un potenziale di fabbricazione di circa 3500 mq. Un dislivello di 4 m segna la strada dal livello del mare, mentre dall'altro lato di Straindvein la situazione orografica descrive una città costruita su un alto promontorio aperto sui fiordi e in stretta relazione visiva con il paesaggio.


Nei pressi dell'area in esame si trovano alcuni capannoni industriali medio-grandi, utilizzati per le attività sopra citate. Nello specifico, il lotto di progetto viene, oggigiorno, utilizzato principalmente come deposito di un laboratorio di ardesia.
MATERIALI DA COSTRUZIONE TRADIZIONALI
Se iniziamo con il considerare i più antichi edifici anonimi norvegesi, spostandoci, poi, ad un'osservazione attenta delle case vernacolari nei villaggi vichinghi, fino all'emblematico Stavkirker, modelli paradigmatici di una tecnica costruttiva che non ha eguali al mondo, per non parlare della straordinaria ingegneria dei Drakkar e dei Knarr, possiamo certamente affermare che il legno è il materiale da costruzione più utilizzato nella storia dell'architettura norvegese. 
La profonda sapienza costruttiva dei falegnami nordici, la loro chiarezza strutturale, la conoscenza della materia e il rispetto delle proprietà intrinseche della stessa hanno creato un'arte costruttiva consolidatasi nel tempo fino a riconoscersi come identità.
La continua osservazione delle architetture tradizionali norvegesi e, soprattutto, nel caso specifico dell'area di intervento, ci porta a considerare un secondo materiale da costruzione, particolarmente utilizzato per i basamenti delle case o nei rivestimenti dei manti di copertura: l'ardesia.

 

Alta è, infatti, uno dei principali siti di estrazione di ardesia di tutta la Norvegia insieme a Oppdal, nella zona centrale. 

La tradizione costruttiva delle case norvegesi mostra in diversi disegni di progetto e foto che la superficie calpestabile isolata dal suolo per mezzo di pilastri in legno oppure tramite zoccoli in pietra sui quali viene impostata la struttura.

 

Questa parte basamentale serve ad isolare meglio il legno dalla risalita dell'acqua per capillarità che, altrimenti, danneggerebbe la struttura compromettendo l'equilibrio statico dell'intero edificio.
REGIONALISMO CRITICO E GLI ESEMPI DI SVERRE FEHN AND WENCHE SELMER
"

"Il Tattile e il Tettonico hanno congiuntamente la capacità di trascendere il mero apparente della Tecnica, allo stesso modo in cui il Luogo-Forma ha il potenziale per resistere all'assalto implacabile della modernizzazione globale".
K. Frampton, Verso un regionalismo critico, in Hal Foster, ed., The Anti-Aesthetic: Essays on Post-Modern Culture, London 1983
Si tratta di un approccio che lo storico Kenneth Frampton ha portato all'attenzione del dibattito contemporaneo nel 1984 fornendo così un'alternativa al diffuso internazionalismo della nostra epoca.

 Il suo obiettivo è chiaramente contro l'adozione di parametri meramente efficientistici nella valutazione di spazi e materiali architettonici e a favore dello sviluppo di "una cultura forte, piena di identità, ma aperta ai contatti con la tecnica universale".
La strategia applicativa di tale approccio, non è affatto riferibile ad un sentimento di tipo nostalgico. Essa si basa fondamentalmente sulla volontà di raggiungere un nuovo equilibrio tra il prodotto della civiltà universale e gli elementi che possono essere derivanti dalle caratteristiche di un particolare luogo fisico, attingendo da quest'ultimo qualità peculiari, come, ad esempio, la tettonica utilizzata negli edifici tradizionali, la conformazione topografica, le caratteristiche delle aperture (a filo della parete, arretrata, sporgente, con o senza frangisole, con fessura) e del rapporto percettivo con i materiali utilizzati.
Un altro aspetto fondamentale della poetica regionalista è, infatti, l'utilizzo di materiali capaci di attivare la maggior parte delle nostre percezioni sensoriali e non solo quelle legate all'immagine estetizzante della contemporanea "Architettura Effimera".  

A tal fine saranno considerate le qualità della luce e dell'oscurità, ma soprattutto le qualità percepite solo sperimentando lo spazio dall'interno, cioè dagli abitanti:
"Il calore, il freddo, il sapore dei materiali, il senso di umidità, la presenza quasi palpabile del legno, dove il corpo si sente di appartenere, la velocità del nostro ritmo e la relativa inerzia del corpo mentre attraversa un piano, l'eco e la risonanza dei nostri passi".
M. Heiddeger. Quote from Frampton: Costruire, Abitare, Pensare. 1954
Tattile e tettonico sono quindi le due qualità perdute che l'architettura regionalista intende recuperare per attivare un processo di resistenza all'imperativo tecnologico che la cultura di massa ha eccessivamente introdotto nella cultura contemporanea. 

Questo processo è volto a fermare la perdita di identità culturali e, d'altra parte, a favorire l'evoluzione e il progresso, collegandoli con la portata delle tradizioni e la storia dei luoghi.
Accanto allo straordinario lavoro dell'architetto Sverre Fehn, c'è un altro lavoro, non meno importante, che dovrebbe essere maggiormente considerato.

 

Stiamo parlando delle case dell'architetto Wenche Elisabeth Selmer, laureata alla Scuola Nazionale di Artigianato e Industria dell'Arte di Oslo nel 1945 e al Corso Nazionale di Architettura nel 1946.  L'analisi e gli studi effettuati sulle diverse tipologie di case di Selmer sono stati di fondamentale importanza per lo sviluppo del progetto in quanto ad uso dei materiali, tettonica delle parti e schemi tipologici. 
I piani della Wigert Summerhouse a Brekkestṃ, ad esempio, così come quelli della casa di Wohnaus Wenche e Jens Selmer a Oslo o del Wohnhaus e Fotoatelier per Jim e Trine Bengtson nel 1974 e l'Hütte per Jan Herman e 
Birte Reimers in Sølbøseter
, condividono alcuni elementi ripetitivi che possono quindi essere considerati, secondo una lettura analogico-comparativa, invarianti tipologici.
Uno di questi è certamente il camino, cuore dello spazio domestico, solitamente realizzato in mattoni e posizionato all'interno della zona giorno/pranzo, subito dopo un corridoio.

 

La cucina è sempre aperta e comunica con il soggiorno, mentre si riscontra una netta separazione tra questa zona della casa e la zona notte.

 L'archetipo formale descrive la nozione di tipo con tetto a due falde con pannelli di copertura a doghe disposti verticalmente o orizzontalmente. 

Il volume delle case è quasi sempre costituito da uno, massimo due livelli, con aperture medio-piccole per preservare una condizione interna che cerca un dialogo con il paesaggio circostante attraverso scorci dell'esterno.

 

Molti degli esempi analizzati utilizzano la soluzione del basamento in pietra, testimoniando, attraverso la realizzazione, l'efficienza del sistema di isolamento dall'infiltrazione di acqua per capillarità.